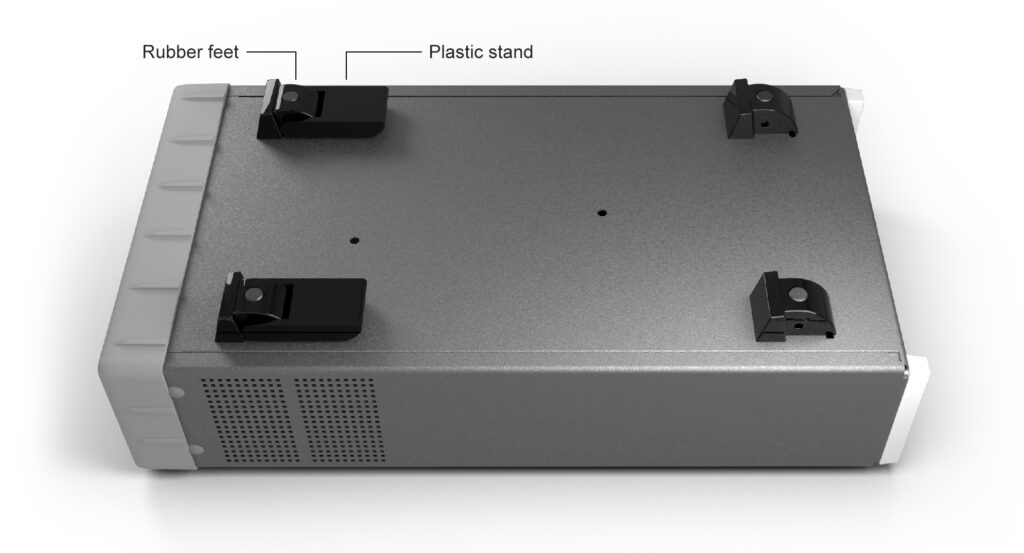 Turn the devices upside down
Remove the rubber feet in the plastic stand
Loosen the screws underneath the rubber feet
Remove the plastic stands
Remove the rubber bumper around the front
Remove the four decorative plugs that cover the screw holes on the right and left side of the front panel.
Use the following steps to complete the side by side rack mount installation for your products. If necessary, refer to the item numbers in the following diagram for additional detail.
Determine where you would like each unit positioned (i.e., on the right or left side)
If plugs exist on the mounting holes on the front left and right side of product cover, remove and discard them
Using screwdriver, screw the rack ear (Item #2) into place using the supplied 10mm screws (Item #5)
Pinch the hinge pins together to separate the right and left hinge halves (Items #3 and 4)
Attach hinge halves to the unit with hinge facing towards the front (as displayed in diagram)
Using a screwdriver, remove the existing rear brackets on the back of each unit
Using existing machine screws removed in previous steps, attach the rear brackets supplied with the mounting kit (Item #1)
Pinch the hinge pins together into the stored position. Align the hinge halves together between the two units, and swing together side by side. The hinge pins should snap into place securing the front of the two units together
Take the supplied Hex Spacer (Item #7) and place between middle rear brackets, and secure using the supplied 8mm screws (Item #6)
Assembly is now ready for installation into standard 19" rack